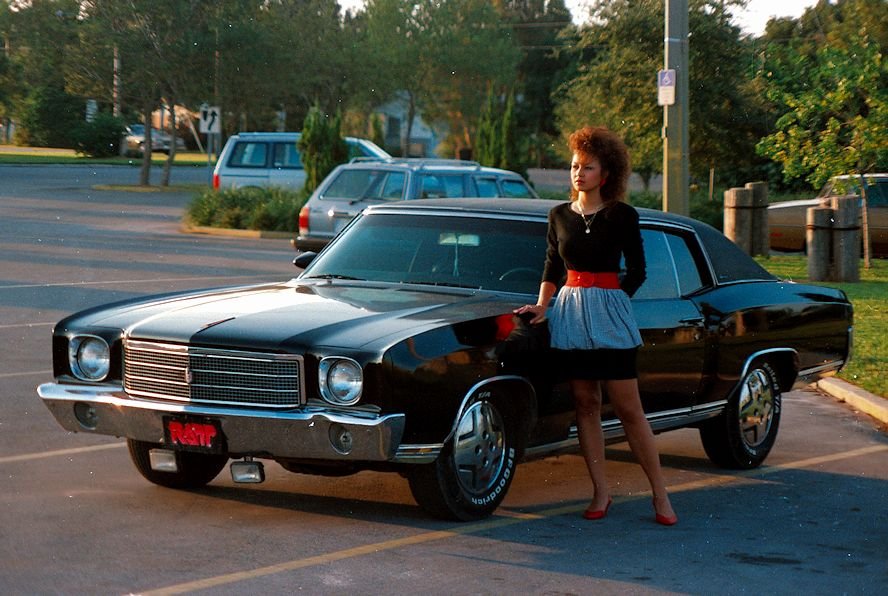 My first car... 1970 Chevrolet Monte Carlo LS. Tonawanda 350 4bl to start with and ALL my friends worked on this one with me. Dan Nichols doing the cam install made this old school ride out nicely. Miss Junior Thailand, Sylvia W. was the model.
I wish I had the forethought of an adult to keep the valve covers from that L48 Tonawanda 350. On the driver's side valve cover, it was stamped "Tonawanda Chevrolet's # 1 Team" on a silver plate on the orange cover. Just for nostalgia, that would have been great. I would never have sold that.
I actually took the original hub caps off because I was worried somebody would steal them. 3rd generation Monte Carlos were out by the time I started driving in 1985. The car was painted in imron polyurethane paint by my buddy Jerry Thorpe. I could NEVER have afforded paint that was $90 a pint way back then (wouldn't like to now), but I was buds with his GORGEOUS daughter, Kendra, so he hooked me up.
Spiker's All American 4X4 on Memorial Bv. in Lakeland cut my grand dad a great deal on the BFGoodrich T/A Comps. That was a bad ass tire for then. We added engine mods besides the cam, but the Moog coils and Monroe air and gas shocks were what made it hande well for what it was. It ran mid 13s which was good for student budget in the late 1980s.
By the time I got the second Monte I had the A-Body car all figured out. Of course they acted completely differently for some reason, but I knew how to mod it.
I wanted a 1987 or 1988 Monte Carlo SS / AC with an LM1 in it, but by the time I got that kind of bank, the Lumina Z34s were out. I obviously went that route.