Thank you for touring The GhostRiders web pages. I hope you enjoyed the rides.
It's almost every day that someone pulls up next to me in traffic, and compliments my cars. Or I'll be somewhere and another car enthusiast will say something nice. I really like and appreciate that. I like to know that somebody thinks well of what my C6Crew and I have put together. Every once in awhile somebody says something REALLY profound ! As I remember them, or new ones happen, I'll put the most memorable quotes here...
From one of my models sitting in the driver's seat of G1- " I wanna lick your car !"
From a lady who used to race in Super Gas category who was sitting in G3... She closed her eyes, tilted her head back and hit the throttle when it was idling... She opened her eyes slowly, looked forward, then looked at me and said - " I did. " You know what that was about.

From a guy in a truck on Bryan Dairy Road listening to G2 - " I don't mean to be forward, but I was listening to your exhaust... It gave me wood. "

From a guy in a car on Ulmerton Road looking at G3- " Man, I love your license tag. Your car is just sick. It's the baddest Vette I've ever seen. "

From another Corvette owner admiring the paint job on G3 - " Dude, you don't even see cars like yours on the street. You have to buy magazines to see something like that. "

From a girl at a party who was sitting in G3 - " Oh my God, this is so nice... please don't make me get out. "

From a little boy at a car show looking at G3- " Is that a Hot Wheels car ? "

From a Street Legal Performance sales rep who put the v.i.n. in his system when I was ordering the headers for G1 - " Man that is the total package. You've got all the right stuff on that car. Nice piece. "

From my girlfriend, after I got the flames put on G3 - " Too bad you're stuck with me now, imagine all the @$$ you could get with that car. "

From a co-worker who saw G3 as the wallpaper on my computer - "Is that your dream car ?" Response: No, I own that.

From Da Truth speaking to one of the T.K. pit crew - You beat GhostRider ?! He's fast ! "Yes I did... and yes he is."

From a hot chick ( who I was watching ) walking her dog on St. Pete Beach, and didn't realized I owned the car - "That car is freakin' gorgeous !" Yes it is. "Is it yours ?" Yes it is.

From one of my new neighbors in reference to G4 - "NICE CAR !" That one was simple, but important because G4 is not modded. It got a serious head turn ( from a chick hot like Christine Ricci ) just because it is what it is. THAT made me feel great !

My new "buddy" I met at Ka-Tiki bar on Sunset Beach in refernce to G4 - She said "That car is bad ass ! No... I mean really bad ass; that is The Batmobile !" ( All kinds of riding is gonna result from that).
From one of the judges at a prestigious Corvette only car show... "I would have given you extra points if you had brought Cortney. No, I'm serious, I really wanted to meet her."

From a cool guy with his wife, driving a VERY NICE, numbers matching Plymouth Barracuda AAR... I told him his car was a beautiful piece. It was automotive history. He methodically looked at G4 front to back and responded "So is yours; look at you. That car is beautiful." Getting props from a guy driving an American icon like that was motivating because it validated that C6s are modern classics.

No words... Just a simple thumbs up, and a look of acknowledgement from a fellow C6 owner. It just said that I personalized my car, and did it right. That was cool.
I know the Vette is about high performance game, but with this chick it was ALL car, it did matter who was driving... "That car is nice ! Oh my God... That is REALLy nice ! Any time you want a passenger, you just call me." She checks me out in my new Chevy Racing hat with black flames. I thanked her. Then she comes over and gives me her phone number and wants to go on our first date right then and there. I had somewhere to go, but I stored the number. Usually having the Vette is a determining factor, not the whole reason.

Leaving the world famous Shepherd's on Clearwater beach in G4 on labor day weekend... A group of yound Hispanic males were wqlking South on the sidewalk on the strip, and the oldest one turned and saw me heading out of the parking lot with the top down. He carefully scrutinized the flames on the side as the appear to be blowing out of the side cove... They all started watching the car. He looked me in the eyes and said "Bro...that is sick." I REALLY appreciated that because there were a lot of nice cars in that environment.
I was at Caddy's on Treasure Island with a chick I've wanted to get with for a couple of years. I roll up in G4. I see her talking to a couple about my car, and they tell her it's mine. She said "My dad worked for G.M. for years. He would LOVE that car ! How did you come up with that !?" Well...The top was already down. I let her sit in it, start it, crank up some Van Halen out of the Bose... We'll be going out in it.
I was washing the Vette at a car wash and happened to end up talking to a guy who is a salesman for my cell phone provider. He gave me some cards and said "I'll hook you up on whatever kind of phones you want, you just gotta let me drive that car."
The GS... I was putting air in the front tires at a Shell station, and these two guys who look like "Ted and Khumar" pull up in an s.u.v. and yell "Man, your car is AWESOME !" They actually came over and asked me questions about it. I was really appreciative because they took the time to ask good questions, and give me props on my effort. The funny thing is all my mods are under the hood. Except for the Jake decal, the GS is show room stock on the outside. But she is what she is... world class sexy.
Shannon talking about G4... "That is the baddest car I have ever seen."... You cant really expand upon that.

THE CAMARO GETS PROPS TOO...
Some kids were watching me as I was re-fueling. I could hear one of the talking about how mine was an SS and explaining to his friends how they were bad assed cars. He rode his bike all the way around the car, and noticed the GHOST-13 tag, and went back to his friends. He said "Hey pops, I like you car. That is VERY nice!". He gave me a thumbs up too. I remember admiring muscle cars when I was a kid, so that was one I'll remember.
The cashier at a drive through... Man, your car is nice. I like Camaros better than Mustangs or Challengers anyway, but I like the way you tied all the colors in; that's tight.
Okay... 6 women that I used to go with have asked to drive the Camaro. Seriously... One of them even has a dislike for the Corvette and perceives the Vette to be snobby and elitist. There are definitely women who fall into Vette and Camaro camps. The cars are just very different. I will leave it at that.
From one of my co-workers who hadn't seen my in the car yet... "I knew that was yours. You're the only guy I know who drives cars like that. That Camaro is bad ass."
I happened to have the Vette and the Camaro out at the same time, and one of my neighbor's daughter s walks by with her friend. The friend was cute, but my neighbors daughter is HOT. She's got some Latina look going; wonderfully curvaceous... Unfortunately they are below the needed 18 barrier to be ble to utilize all the benefits of me having bad ass cars. Anyway, as they are walking by, the little hottie says ""We love your Camaro, it is soooo nice." We like your Vette too, but we love you Camaro. Why the number 13 on the side ?" I told her the old S.C.C.A. vintage racing Camaros had a certain look and since new Camaro has a retro look, we went with straight old school with it. If she is around in a couple of years, I'll see if she's still interested in it.
I was driving with SpiNRacer, and he says "Hey... that guy is applauding your car." I look over at the gas station at the corner and this guy is clapping his hands and pumping his fist. I honked and gave him thumbs up. I told SpiN; "That's why I gotta make my cars like this, I love that.
I happened to be out somewhere, and I met this guy who said that he used to street race. We mentioned some old school guys like BackInBlack and Money Green. He said he beat Money Green, and my eyes got big. He said "Did you ever hear of a car called Space Ghost ?" I said yea, the white Fox body with Weld wheels... that was a 10s car. He said "That was me." He told me why he got out of the game. Putting my self esteem on the line, I asked him... "Did you ever hear of a black Camaro SS called GhostRider ?" Slightly to my amazement, he said yes. I said "That was me ." I was happy I left enough of a reputation to where a heavy hitter like him would even know who I was.
Sometimes nothing needs to be said. I was walking out of a store and looked out in the parking lot where G13 was parked. I saw a guy with a smart phone talking to his female companion and taking pictures of my car from all sides and discussing it with her. He was pointing out the detailing in the numbers. I just walked over to another car and chilled out and let him do his thing. I guess I did the gen 1 SCCA retro look pretty well.
I was in the Grand Sport in a parking lot and a lady pulled up in an s.u.v. She gets out and looks at the car and literally just put her hands on her face and said "Oh my God, that is SO nice !!" She walked all the way around it and looked closely at the metal flake paint. She stopped back in front of it and walked to me and shook my hand and said "It must be so nice to have something like that!" Wow... psychological impact.

At my barber shop I was in G13 and this kinda voluptuous blonde drives in in a Caddilac CTS-V and says "I was lookin at your car in the intersection and I just had to come over and tell you how nice it is. I think you did it just right." THAT was nice of her. When you are in one of the nicest GMs ever and you go out of your way to comment on a car, that is cool.

Looking back at all the cars, G1 was the show car. But back when she was brand new and absolutely stock was when the best compliment was given. I was with my (then) girlfriend Laurie out on the beach. She introduced me to a couple friends of hers. One was an ASE certified mechanic. I explained to him that I just got the car that week. The SLP Camaro had Bilstein shocks instead of deCarbons, polygraphite bushings, fiberglass hood, bigger (1LE) suspension pieces, LS6 heads, Auburn rear end instead of Zexel Torsen, spring lowered 1.5", ultra light weight aluminum drive shaft, short throw shifter, SLP dual dual exhaust, oil cooler and Z06 clutch. For what you could get from a dealership (via SLP on a Y2Y form) this was the baddest Camaro there was. I put the hood up. I was kind of in awe of it myself because I hadn't had anybody to talk about it with. I wasn't in BADRaP yet. He looked at it, then looked at the interior. He backed up, genuflected and bowed down. Me and his other friend did the same thing. You couldn't tell the difference between an SLP and a stock SS from a distance, but once you looked at the hardware, it was clear.That thing would have cost $36,610.00 in 2000 when I ordered it. That's more than a C5 Camaro SS. Good thing Christine Maher hooked me up, and Dave Jenquin knew how to get one. It was the only one there EVER was in the Tampa Bay area. Hell, Speed Racer up in Orlando had the only other one in Florida we knew of ! Eventually he supercharged his and I nitrous injected mine.
My new neighbor was walking her dogs... She tells me she is from Cali and likes cars. She said "I drool every time I walk by that car" (referring to the Camaro SS). "That car is so nice, I just want to touch it." I told her "By all means touch it."

I was checking the air in my tires and a man who was a tattoo artist and car painter started checking out Ghost 13. He said "That car is perfect. It's not over done and crazy...it's not lacking...it is on point. I have never seen another throwback look Camaro." At that distance, he thought the paint was decals. When I invited him over and pointed out that the stripe was a Camaro correct silver ice with a pinstripe, and that everyting was painted and sealed, his eyes got big. He said "Man, that really puts it over the top. This car is fantastic." Coming from a guy that custom paints, that was very meaningful.

THE ZL1...
I showed a friend of mine the new one. I said "I thought you might have a positive reaction to it." She said "Yea, I've had several just standing here looking at it. Her friend (who was about as dark and curvacious as the Camaro) was just in awe of it. I said it was very driveable, you can cruise in it and have a nice time, or open it up and get stupid. She looked at the interior, backed away slowly and said "I'd be down for getting stupid."
I was geting a nice coat of carnuba wax applied at a car wash and a Corvette owner drives up in his base C6. He asked if he could take pictures of it and wanted to ask questions. He took pics and pic messaged them to his friend in Detroit... When a Vette owner wants to talk about your Camaro, you have a special piece.
I was leaving the garage area at Tom Argue Design and there was a biker exiting the office. I had the hood up as I had just put on the painted engine cover. He simply looks at the car, points at it and says "That is one bad mother fkr !". I agree.
Eric with Pfadt Racing Performance in response to Murder 1 dyno pull ; "Holy crap man! That is some torque!...Even though we had some demand based inventory issues on my end, I couldn't be happier that you guys stuck with us. These results are great, and we are proud to have been a part of it! That torque number is nasty!"
The best one yet... I'm at the car wash with Murder 1, and a lady who looked like one of the "Golden Girls" walks up to me and asks me if that is my car. When I respond "Yes", she proceeds to ball up her right fist and punch me on my left arm.

She was mad because she wanted a Camaro and her son bought her a Nissan Altima instead. She said 33 times that Murder was a beautiful car over the next 35 minutes. Her son thought even the base model would be too powerful for her. Well... she's 78, but REAL feisty. I told her I would have let her test drive one and make that determination for herself. She is still real made about it. When they were done detailing it, she walked over to it and opened he door to check out the interior. Kinda surprised the detailer. We hugged it out. She doesn't hate me for having it but she hates not having one. I think 78 is the most mature woman to want to really be into one of my rides. G3 had the (then 64 year old) having a cargasm. That one used to run bracket races in the 1960s though so she was a true car head.
While refueling Murder 1, after a night of friendly races, a guy pulls up in a 90s Steeda Mustang. He looks over and say "That's a bad mother fkr... That's all I've got to say about that,"
After I got the "Revelation 7:20" paint job... I was wiping the car down and one of my neighbors drives by and says "That's my car... there's my baby. Man that is my favorite car in the world !"
Chick from a pool party...I love it when you start your car. I could just listen to it all day... *** I HAVE TO LEAVE OUT THE REST, IT MENTIONED PANTIES AND SUCH***

At a QSL car show in August 2016 there was a guy from Texas who was in a car club. He actually hugged me because he theought Murder 1 was one of the best all around cars conceptually he had ever seen. He was REALLY serious aout how well it was conceived. When I told him the cam was going in next week, he shook his head. He promised to hell hs peeps back in Texas about wha he saw and share the web site.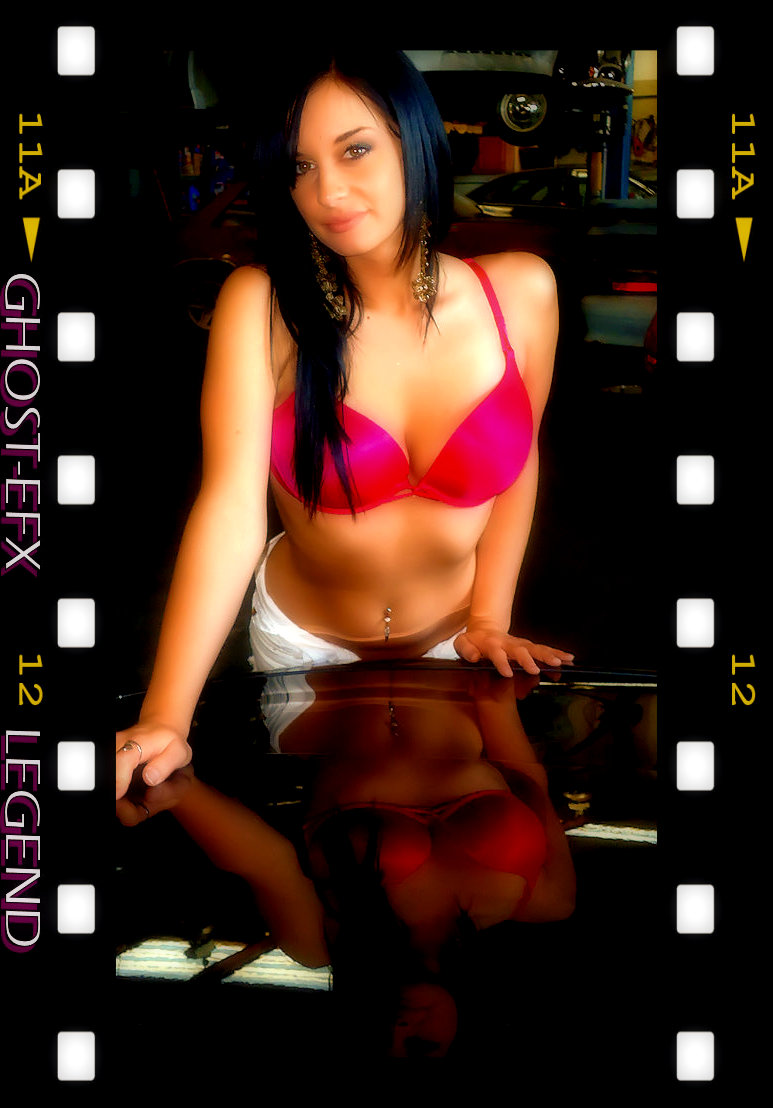 This is for Brian aka "HotShot", Nick aka "Devil505", Richie aka "Richie Rich", and Scott aka "Transporter 2". We all came up together racing anywhere and everywhere, and lived through all that madness. I guess we were lucky and good. You've gotta be both to raise all the hell we did and live through it all.